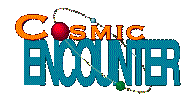 ---
What is Cosmic Encounter?
Short answer: The best game in the world.

Long answer: Cosmic Encounter (CE) is hard to describe. It's a board game, it's a card game, it's a power game, it's a beuracratic game, and yet at the same time it is none of these things.
It's not a role-playing-game, though ever single RPG'er that I've taught CE to has loved it.
It is initially a simple game, but then the players are given powers that let them bend, change or break the rules. It was the inspiration for Richard Garfield's famous game 'Magic: The Gathering,' but unlike M:TG, you only need to buy it once.
Well, sort of. CE has been published by a number of gaming companies in a number of countries, and geeks like me like to get them all.
In 2020 I finally managed to make it to the "Galactic" Championship and made it to the finals, where sadly the game was thrown by a kingmaker. That's a story for another time.
It's fun, basically. That's it.
---
All the Cosmic that has ever been, with images, rules, component lists.
New players often ask me how they should put together CE, here's my opinion.
And also, my (finally!) complete collection of Cosmic Encounter sets and accessories.
---
Local info:
---
Other Places:
---
Thanks to:
Peter Olotka <olotka -at- vsj.cape.com> (creator!), for answering questions.
Bill Eberle, one of the creators
Nicholas Sauer <njs -at- dnrc.bell-labs com> (original Mayfair tester), source of lots of info!
Aaron Feugi, Jack Reda - for their excellent sites
Steven Staton for the Eon rulebooks
Globetrotter for the Alga information
Marcus Vinicius Garrett Chiado, for scanning Contatos Cosmicos rules just for our site!
Markus B. for coloring AH seventh and eighth player images.
---
Back: